Smoked Salmon Roulade
January 3rd, 2011
Posted in Food
Borrowed and adapted this from Good Housekeeping, December 2010 and tweaked it a bit to suit family tastes and numbers. Served it a few times over Xmas 2010 and New Year 2011. It works and it's pretty tasty.
Click below for the recipe:
Smoked Salmon and Smoked Mackerel Roulade
This is what the GH version looks like. I flattened the mix over the smoked salmon and rolled it like a swiss roll.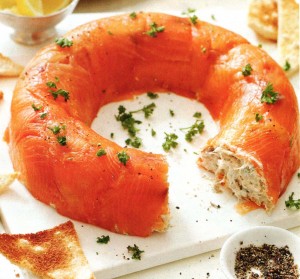 Yum.